6A Girls State Champs
For the first time ever Allen High School wins a girls team State Championship. The take only 4 girls, all 4 of them place with 2 champions and 2 placing 4th. Getting 4 girls to the semi finals got them the points needed to secure the victory over Katy Tompkins who takes 2nd for the 2nd year in a row who also just had 4 qualifiers with 3 making it to the finals getting 1 champion and 2 runner ups. 6A girls had 4 back to back champs as well. Below we will break down each champ.
95 Olivia DeGeorgio a junior from Conroe Woodlands College Park defends her reign as the 95lb champ going back to back. DeGeorgio breezed her way to the finals getting tech falls then had Rachel Cotter of Katy Morton Ranch in the finals. Cotter made it a close match keeping it close through 2 periods but in the end DeGeorgio pulls out the 7-2 decision. DeGeorgio went undefeated this season going 20-0 combined with her last season record 35-1 puts her at 55-1 in her state championship runs.
102 Eliana Martinez a junior from Allen High School after getting the tech fall in her 1st match gets better with every match getting the fall in the semi finals at 1:50 in the 1st period before getting the fall in the finals at 58 seconds into the 1st period over Addison Garcia of San Antonio Reagan. Martinez placed 5th in the 2020 season last year making her a 2x state placer going undefeated on the season at 16-0.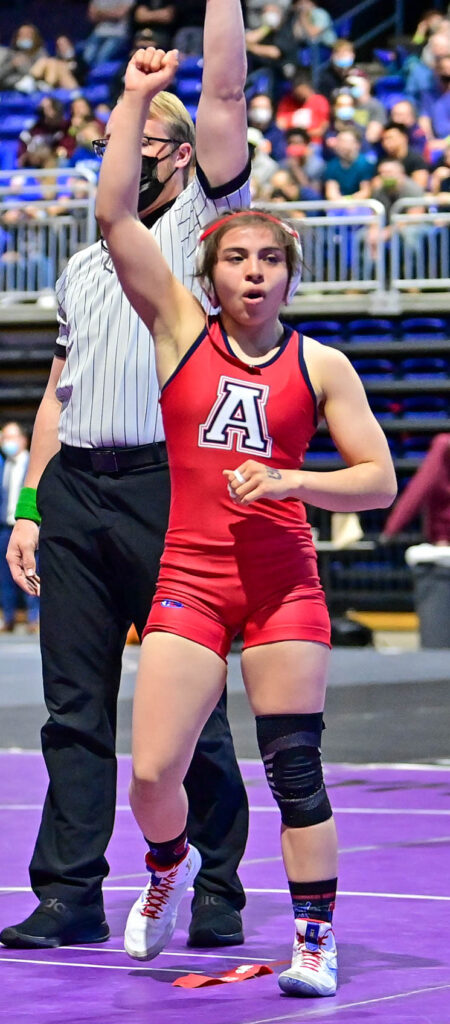 110 Bayley Trang a sophomore from Southlake Carroll makes her 1st trip to the state tournament and comes out with the championship. Bayley won by fall her 1st 2 matches before running into Brittney Cotter of Katy Morton Ranch a 3x state finalist in the finals narrowly securing her victory in overtime. SV-1 7-5. Trang went 22-2 on the season with her only losses was when she wrestled up a weight at 119.
119 Olivia Moreno a sophomore from Austin Bowie started her state tournament run by getting the fall over the #2 ranked Alexis Montes of El Paso Eastwood in the 2nd period going on to get the falls in her next 2 matches in the 1st period including her finals win over Lily Broadwick of Katy Tompkins. Giving Broadwick her first loss on the year keeping Moreno's undefeated season alive at 23-0. Moreno didn't place last season as a freshman but did qualify.
128 Jayden Bazemore a junior of Houston Cypress Ranch had an impressive state championship run. Bazemore after getting by Keyla Martinez of El Paso Eastwood in her first match by a 6-4 decision. Bazemore then gets the fall over Elizabeth Duvall who was the new #1 ranked wrestler after pinning Devin Patton of Plano West in the regional finals. This set of a finals match with Patton where Bazemore secures a 8-3 decision getting her first championship after placing 4th last season. Bazemore went undefeated 19-0 on the season.
138 Gianna Moreno a senior of San Marcos took 3 years to claim her championship but she finally got it. Moreno undefeated on the season at 18-0 won easily her first match then got a tough semifinals match that she won by decision 11-9 over Olivia Crutchley of Killeen Harker Heights who took 3rd place. To meet up with the #1 ranked Taylor Martinez of Prosper. With 2 seconds left in the 2nd period Moreno gets the fall to win her first state championship and become the new #1 at 138lb weight class. Moreno is a 4x district champ, 4x regional qualifier and 2x champ, and 3x state placer placing 3rd in 2019, 4th in 2020, and 1st in 2021.
148 Jasmine Robinson a freshman of Allen High School. Robinson as a freshman is the next candidate to become a women's 4x state champ baring grades, health, injury. This freshman hasn't been to the 3rd period all season long going undefeated at 20-0. Also has not 1, not 2 but 3 wins over last years state champ Leilani Hernandez whom unfortunately broke her hand in the regional finals against Robinson keeping her out of the state tournament. Jasmine is the younger sister of 3x state champ from Allen, Juwan Robinson. Notable wins for Robinson is over the 5A state champ Avery Beckman of Friendswood by fall in the first period at the Lonestar Nationals last February.
165 Kaitlyn Bryant a senior of Katy Tompkins after not making the state tournament her first 2 season of wrestling does back to back state championship wins at 165. Bryant who went undefeated at 24-0 only has about half listed on track however breezed through her matches until the state semifinals and the finals where she won by decisions over Marisol Lopez of Killeen Ellison 7-2 in the semis and Camryn Tresler of League City Clear Falls 7-1 in the finals. Securing Bryant's back to back championships. Bryant is a 4x district placer and 3x champ, a 4x regional qualifier and 2x champ, and 2x state champion.
185 Brittyn Corbishley a senior of Conroe Woodlands College Park is another wrestler winning her back to back state championships. Corbishley is nationally ranked at #2 and is undefeated on the season as well at 20-0 and until her first match in the quarter finals hasn't wrestled a match outside the first period all season, and then it only went to 55 seconds in to the 2nd. Corbishley's semifinals match was a whopping 35 seconds and her finals match over Nicole Blinn of Katy Tompkins went to 1:35 before the fall. Corbishley is a 4x district champ, 4x regional champ, and a 4x state placer placing 6th in 2019, 4th in 2019, 1st in 2020, and 1st in 2021. Corbishley plans to continue her wrestling career at Texas Wesleyan University in ft worth next season.
215 Traeh Haynes a senior of Cibolo Steele is yet another state champ who went back to back on her championship wins. Haynes went undefeated this season at 10-0 as well as last season 41-0. Haynes was #1 ranked nationally for the past year until this last ranking in April where she dropped to the #2 ranked nationally 215lber. Haynes has notable wins over #1 @ 200 nationally ranked Hannah Francis of Coppell in the state semifinals in 49 seconds. Haynes got the fall over Melanie Oyervides of Cypress Ridge in the finals at 27 seconds. Haynes is a 4x district champ, 4x regional champ, 4x state placer, 3x state finalist, placing 3rdin 2018, 2nd in 2019, 1st in 2020, and 1st in 2021.