We go through the list of 6A boys state champs. Allens wins its 12th consecutive UIL Team Championship with Arlington Martin getting its 2nd for the 4th year in a row. Martin had 5 champions to Allens 3 champions but where Allen takes the points lead is with their depth. Out of the 10 wrestlers making the trip for Allen. Allen had 6 finalists, 3 champs, 3 runner ups, a 4th place finisher, and a 6th place finisher making a total of 8 placers out of 10 compared to Arlington Martin's 7 placers out of 9 with 5 champs, a 3rd place finisher, and a 6th place finisher. The biggest points were awarded for winning the semi-finals and advancing to the finals.
106-Joseph Liescheski a Freshman from Allen is the only boy's freshman state champ and the only boy's wrestler in either 6A or 5A that starts his 4x state champion campaign. Liescheski is also undefeated on the season 21-0 with notable wins over Ashton Bennert of Canyon Randall the 5A state champ and the state finals match over Ian Abdallah of El Paso Franklin who had beaten Liescheski the last time they wrestled in youth matches.
113-Shawn Ryncarz a Sophomore from Arlington Martin. Ryncarz made his 2nd state finals appearance with this time capturing the win over AJ Marino of College Park for his 1st state championship. Ryncarz only loss on the year was to Allen's Caden Brown who injured his shoulder right before districts that kept him sidelined. Ryncarz season record of 14-1 includes a state quarterfinal win over Eamonn Jimenez of Killeen Ellison A rematch of the 2020 state finals at 106 which Jimenez won but this time Ryncarz gets the fall in 1:19. Ryncarz pinned all his state opponents and not wrestling the 3rd period in the state tournament in any of his matches. Ryncarz placed 2nd last year at the state tournament making him a 2x finalist.
120-Braxton Brown a Senior from Allen. Brown has had an impression 4 years in Texas with his finals win becoming only the 4th Texas boys wrestler to have 4 state championships. It's hard to have notable wins for Brown this season as Allen didn't leave the state for any national tournaments. Only 2 wrestlers were able to last all 3 periods without getting pinned this season, everyone else in Browns 21-0 season never made it past the 2nd period including Brown's state finals win over #2 ranked Micah White of Humble Kingwood whom he pinned in 50 seconds. Brown is ranked #3 in the nation by Flo wrestling and will be wrestling for the University of Maryland next year. Brown is undefeated in the state of Texas in his 4-year career and was this year's 6A boys State MOW.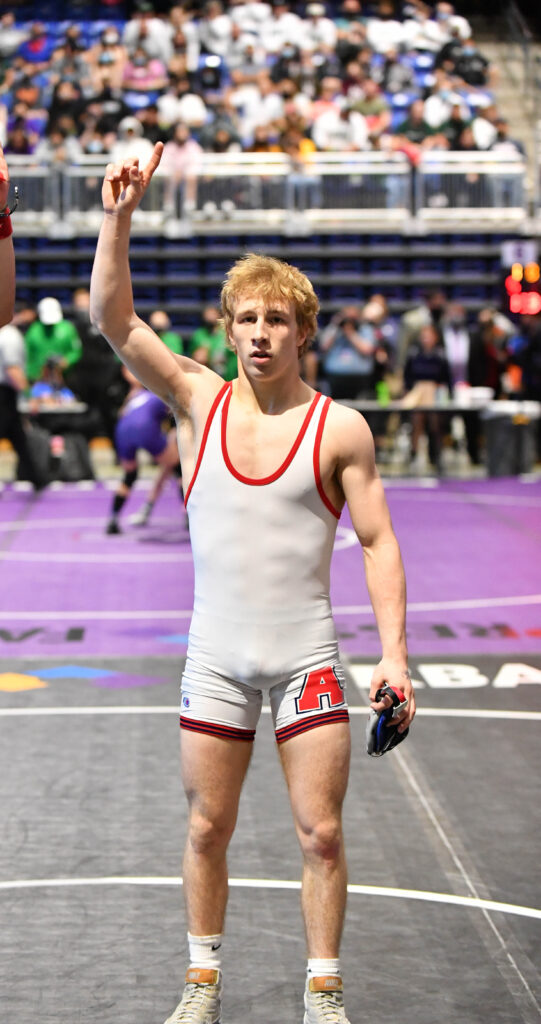 126-Kade Moore a Junior from Allen finally got his state championship this season after being a finalist in 2019 and placing 2nd to Donavan Whitted of Arlington Martin, and placing 3rd in 2020. Moore went undefeated this season at 20-0 with notable wins over the 5A state champ Andres Mendoza of Canyon Randall and #2 ranked Jackson Crandall of Katy whom Moore beat in the state finals by major 13-1. Moore is a 3x district champ, a 3x regional champ, and a 3x state placer, and now finally a state champ.
132-Nasir Bailey is a Sophomore from Arlington Martin. Bailey was a move in this year from Illinois and was a nationally ranked wrestler earlier this year and quickly became the #1 ranked wrestler in Texas. Bailey backed that up by going undefeated 19-0 this season with the only wrestler not getting majored, tech-falled, or pinned was Noah Gochberg of Vandegrift in the state semi-finals who took Bailey to overtime. Bailey defeated Corey Camden in the state finals 11-3.
138-Tagen Jamison a Senior from Plano West. Jamison a transfer from Oklahoma 3 seasons ago is a 3x Texas state finalist and now a 2x state champion. Jamison is another undefeated wrestler with his record only showing 12-0 wrestling within the state. However, during the season Jamison also won the National Recruiting Showcase Tournament in Iowa that features 18 state champs in his bracket and another tournament in South Carolina. Needless to say, Jamison's undefeated season is more impressive than 12-0. Jamison has defeated the #2, #3, and the #4 state-ranked wrestlers this season plus the 5A state champ Ahlee Yart of Dumas. Jamison defeats Mason Woodward in the state finals by major 14-5 to become a 2x state champ. Jamison ends his high school Texas career a 3x district champ, 3x regional champ, 3x state finalist, and 2x state champ. Jamison will be wrestling for the University of Minnesota next season.
145-Donavan Whitted a Senior from Arlington Martin. Whitted is this year's only 3x state champ in the state within any division boys or girls. Whitted went undefeated 25-0 this season and is also undefeated in Texas as well. In 2019 Whitted took the 106lb championship, 2020 Whitted moved up to 126 and claimed his 2nd state championship, and this year 2021 Whitted won his finals match over Roberto Bautista of Klein in a close 5-4 decision. Whitted will join fellow Martin Warrior Dominic Chavez at Presbyterian University to continue his wrestling career.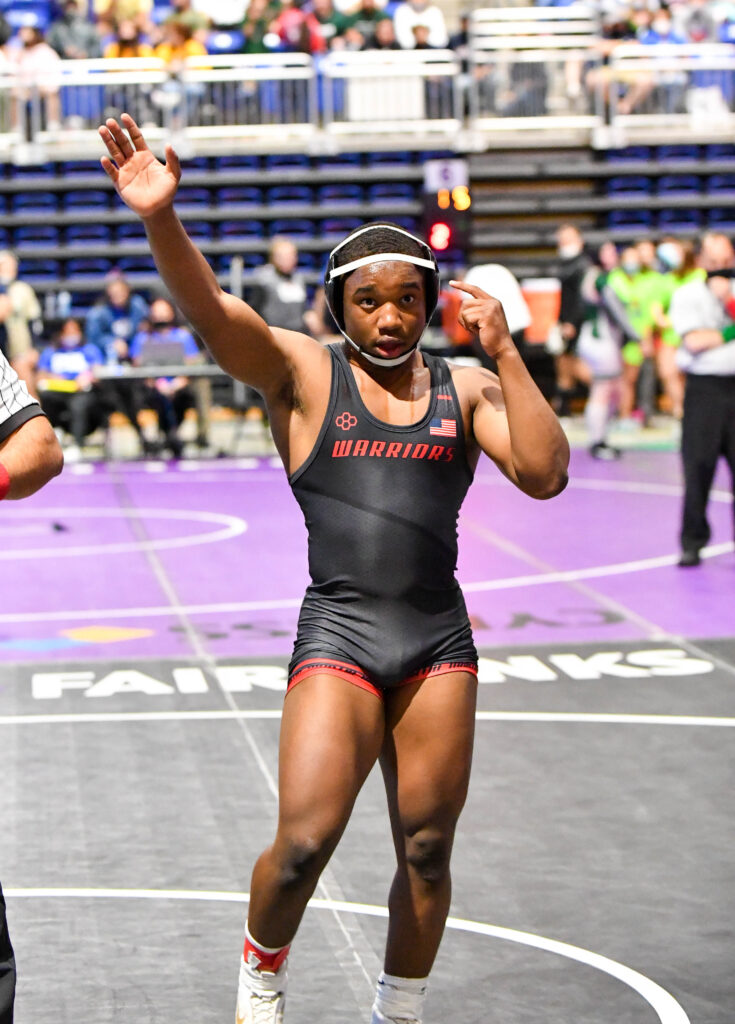 152-Sincere Bailey a Senior from Arlington Martin is the brother of the 132 champ who moved in this season as well from Illinois and like his brother took Texas wrestling by storm defeating everyone in his path including 2x state champ Mario Danzi of Allen earlier this year. Everyone thought that would be the finals rematch the way the brackets at state played out but Caleb Mata of Clear Lake made sure it didn't happen beating Danzi in the semi-finals. It took Bailey overtime to secure his championship in OT (TB-1 7-4) over Mata who was trying to upset his 2nd ranked wrestler. Bailey going 20-0 this season will be wrestling for the University of North Carolina next season.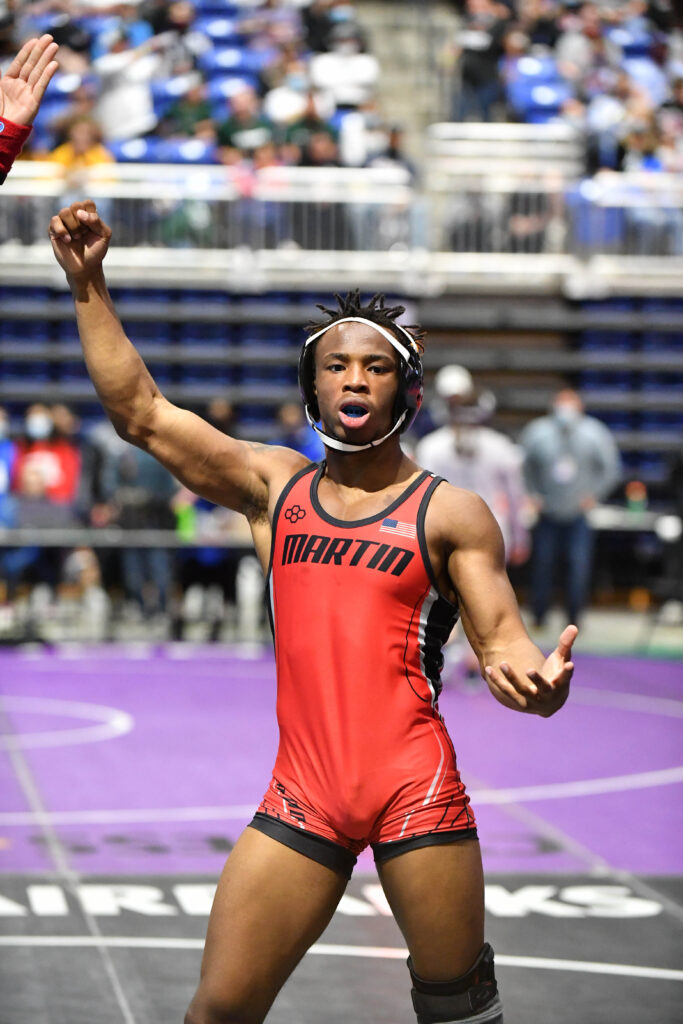 160-John "LJ" Richardson a senior from Propser HS. Richardson was on a mission this season. Richardson was a 3x state placer only making it to the finals his freshman season to place 2nd. Richardson ran the gauntlet this season going undefeated at 26-0. Richardson had lost earlier in the season at a USA event to Austin Hartmangruber of San Antonio Lee keeping him ranked 3rd all UIL season under #2 Hartmangruber and #1 last year's state champ Aaron Lofton of Cedar Park Vista Ridge. Once the state tournament started Richardson's first big test was in the quarter-finals against returning state champ Lofton whom he beat by decision 9-3, Richardson then breezed by Owen Hollaway of Southlake Carroll by fall in the semifinals to put him in a rematch against Hartmangruber. This time the results turned and Richardson won by major 12-2 securing his state championship. Richardson places 2nd in 2018, 6th in 2019, and 4th in 2020 making him a 4x Texas state placer.
170-Darwin Hull a Senior from Schertz Clemens makes the finals for the 2nd straight season against an Allen wrestler. Last season Hull took second losing by 1 point in the finals. This season Hull secures his state championship by decision 6-4 over Ryan Nichols of Allen. Hull has 1 blemish on his record this season from a loss he took in the regional finals causing him to lose his #1 ranking right before state to Caleb Sebra of San Antonio Johnson. It didn't matter though as Hull majored and pinned his way to the finals to face Nichols who beat Sebra in the semi-finals to win his first Texas State Championship. Hull only has 2 years of UIL stats because his freshman and sophomore years he wrestled for Wyoming Seminary a prep school in Pennsylvania.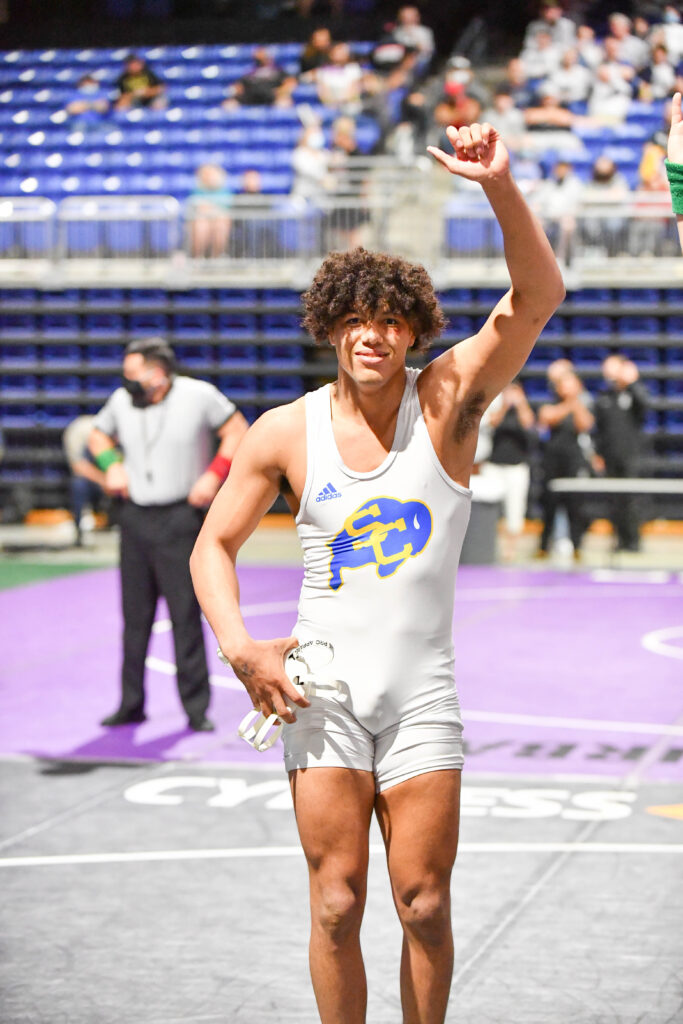 182-Jonathan Wertz a Senior from Conroe Woodlands College Park. Wertz had an impressive season going undefeated and pinning every opponent but 2 per trackwrestling results going 24-0. Wertz was ranked #2 all season under #1 Farid Mobarak of Plano West who was the returning state runner up to Wertz placing 3rd last season until the regional finals when the two met and Wertz pinned Mobarak in the first period earning his new #1 spot going into the state tournament. Wertz then breezed his way to the state finals for another rematch with Mobarak with the same outcome only getting the pin in the 3rd period this time. Wertz transferred from Houston Cypress Lakes in 2019 to College Park where he was a state placer as well. Wertz ends his career a 4x state qualifier, 3x state placer, placing 4th in 2019, 3rd in 2020, and 1st in 2021. A 4x district champ, and a 4x regional finalist going 2-2 as a champ.
195-Eli Sheeren a Senior of Klein became only the 4th boy's wrestler this season to win back-to-back state championships. Sheeren was undefeated on the season going 28-0 winning every match by fall at 195. A notable win was over the 220-6A state champ Max Soto whom Sheeren beat by decision late last month 6-3 when he bumped up to 220 for the match. Sheeren breezed through the state tournament pinning all his opponents in the 1st period except Chase Parham of Prosper who arguably could have been called in the 1st period but he got the call in the 3rd. Sheeren is a 4x state qualifier, 3x state placer, placing 4th in 2019, and 2x state champ winning in 2020, and 2021. Also a 4x district champ, first one in Klein High School History, and 3x regional champ. Sheeren plans to further his wrestling career at Buffalo University in New York.
220-Max Soto a Senior of Arlington Martin HS. Soto is a 4x state qualifier who finally captured his state championship this year only losing 1 match and that was to the above 195 champ Eli Sheeren. Soto was ranked #1 or #2 most of the season depending on where Sheeren was that week and according to trackwrestling won every match this season by fall except his one loss and his state finals match against Isaiah Steel of Allen whom he had pinned earlier in the season. Soto ends his wrestling career as a 4x district champ, a 4x regional placer, and a 4x state qualifier placing 5th in 2019 and champion in 2021.
285-Ivan Escobar of El Paso Montwood was the only 6A El Paso wrestler to make the state finals this season and was ranked #2 all season under #1 Emmett Bivens of Allen. Escobar is undefeated on the season going 20-0 winning all his matches by fall except for his state finals win over #1 Bivens of Allen whom he beat by decision 5-2. Those falls included top-ranked wrestlers then #3 Johrdan Howard of Klein Cain and #4 Ryan Benca of Comal Smithson Valley. The fall over Benca put him into the state finals. Escobar is a 4x district placer, a 4x regional qualifier placing 3rd in 2020 and 1st in 2021, and a 2x state placer placing 6th in 2020 and winning in 2021.