The 5A State Boys Champions and Rankings Review
106

#1 Axel Hernandez of Dumas held true to his ranking and capture a state championship over #7 Bradyn Valdez of Lubbock Monterey.  #2 Diego Serna of Sharyland Pioneer met with #4 Tyten Volks of Frisco Centennial in the 5th place match where Serna got the win leaving Folks with the 6th place finish.  #3 Abel Alvarado of PSJA Memorial kept his ranking in check by placing 3rd over #5 Juan Martinez Caney Creek whom took 4th.
113

#1 Javier Duchene of El Paso Del Valle  who won the region 1-5A  over #2 Jesse Martinez of Dumas lost in the semi finals to #4 Alex Pena of Lubbock the returner state placer.  Pena fell In the rankings on his 4th place finish at that regional tournament losing to #3 Ezekial Ramirez of Canyon Randall who lost to Duchene 1-0 in the regional semi finals.  OK for some reason unknown Ramirez forfeits out of the state tournament giving way to #9 D'Andre Brown of Wylie East room to reach the semi finals before Martinez takes him down putting Martinez in the state finals tournament where he losses a decision to the returning state champ Pena.  So Pena repeats as state champ, Martinez takes 2nd, Duchene who lost to Pena in the semi finals come back to take 3rd over Brown#5 Javier Chapa of Victoria West takes 5th and #8 Landon Brown of Northwest finishes in 6th place.
120

#1 Mason Purvis of El Paso Chapin stays true to his ranking as he wins the state championship over the #2 Andres Mendoza of Canyon Randall who places 2nd.  #7 Aiden Conners of Grapevine jumps up here and takes a 3rd place finish over #5 Noah Duvall of Springtown who finishes 4th.  Then out of nowhere #16 Aiden Medina a freshman from Lubbock who barely made the tournament with a 4th place finish at regionals beats  losses his first match to Connors then comes back through the back side of the bracket beating #4 Dario Riveria of Carrollton Turner, then #3 Reynoldo Perez of Uvalde in the blood round, reaches the podium at 5th place beating a #13 Amando Vasquez of Frisco Liberty who took 6th.
126

#1 Johnathon Ortegon of Canyon Randall and #2 Tyler Brennan of Frisco, a finals rematch @ 106 from 2017 went Ortegon's way then. Ortegon was going for his 4th consecutive UIL State championship this time but Brennan denies Ortegon with a takedown in OT to secure himself his 2nd consecutive state championship.  #3 Jarred Adams of Hutto takes a 5th place finished over #16 Ean Hutcherson of Grapevine who was another wrestler to climb back from a 4th place regional finish to stand on the state podium at 6th.  #4 James Yarbro of Carrollton Creekview gets him a 3rd place finish over #7 Dimitri Villanueva of El Paso Parkland who placed 4th.  #5 Jacob Sanchez of College Station A&M Con went 1-2.
132

The top 5 ranked wrestlers stayed in order at this weight.  #1 Heath Roth of Arygle finished his undefeated season with a fall in the finals over #2 LaStot Pleasant of Frisco Lone Star who settles for 2nd.  Roth will start his senior year next season with 1 career loss which happen in the finals last season.  #3 Jaren Powell of Burleson Centennial took 3rd over #4 Ah Leet Yart of Dumas who takes 4th.  #5 Steven Rodriguez of Canyon Randall takes the 5th place spot and #10 Jacob Golston of Frisco makes the semi finals and gets hurt wrestling Roth and Medical defaults to 6th place.  Golston gave Yart his first loss in the first round so Golston could of possibly made at least a 4th place finish.
138

#1 Precious Essien of Frisco Liberty and #2 Jackson Carter of Midlothian both made the finals but it was Carter stepping up to take the win over Essien for the state championship.  Surprise #12 Brandon Camacho of El Paso HS goes through #3 Gilbert Falcon of Dumas and #4 Isaiah Ayala of Carrollton Creekview to place 3rd. Ayala places 4th and Falcon places 5th over #10 Patrick Perea of Canyon Randall who takes the 6th spot.  #5 Robert Fountain of McKinney North went 2-2 losing in the blood round to Falcon.
145

#1 Chase Warden of Dripping Springs stays undefeated and after placing 3rd in 2017, then 2nd in 2018 finally gets him the championship in 2019 and the MOW for the 5A boys.  Warden defeats #8 Spencer Buchholz of Highland Park in the finals and Buchholz defeated #2 Julian Delgado of Corpus Christi King in the semi finals to reach the finals.  #3 Jared Gallegos of Canyon Randall lost to Warden in the semi finals and came back for a 3rd place finish over #5 Adrian Salazar-Riveria of Ft Worth Chisholm Trail who placed 4th.  #7 Tucker sparely of Frisco Reedy who had lost in the quarter finals to Delgado got his revenge by beating Delgado for the 5th place finish giving Delgado the 6th place finish.
152

With #2 Kye Fehrenbacher of Wylie East  a state runner up last season not making the tournament this year it opened up the door for others to move up.  #1 Micah Wiginton who previously beat Fehrenbacher in the region 3 finals kept his undefeated streak in tack by getting his 1st state championship over #4 Hank Meyer who took his first lost of the year to Wiginton to take 2nd place.  #7 Mason Kruljac of College Station A&M Cons who had qualified and not placed last 2 years finally gets a 3rd place finish over #3 Omar Delgado of Dumas who takes 4th.  #5 Moses Torres of Canyon Randall holds his #5 spot by placing 5th over #9 Hampton Jenschke of Cedar Park who takes the 6th spot.
160

#1 Seth Dixon of Hereford stays undefeated and claims his 2nd consecutive state championship beating #5 Jaydn Heaton of Canyon Randall in there finals who settles for 2nd.  #8 Thomas Tolbert of Leander Rouse defeats #2 Brandon Bostwick of Midlothian for 3rd place tying his 3rd place finish last year giving Bostwick 4th.  #10 Ralph Rucker of Lovejoy places 5th over #3 Preston Haas of Frisco Reedy who beat # 4 Jeffery Ramsey of Arygle in the Blood round.  Haas places 6th.
170

#3 Manny Elizondo of Friendswood proved why he was undefeated thus far by winning a state championship going undefeated 20-0 beating #1 Branson Britten of Canyon Randall in the state finals who settles for 2nd.  #2 Cullen Davee of Arygle places 3rd over #4 Esteban Gallardo of Corpus Christy Moody who holds his #4 ranking by placing 4th.  #5 Jacob Underwood of Lovejoy holds on for a 5th place finish over #7 Charles Barnes of Dumas who places 6th.
182

#1 Aiden Jean of Northwest who place 2nd last year finally grabs the championship here but it was a battle with #5 Marcos Hinojosa of El Paso Hanks who beat #2 Langston Mayrant in the quarter finals cousin Mayrant to fight back to a 3rd place finish.  Hinojosa takes 2nd place.  #3 Gavin O'Brien of Canyon Randall takes the 4th place spot.  5th and 6th place go to #13 Ronald Caldwell of Pflugerville Weiss who takes 5th and #14 Colby Hopkins of Highland Park takes 6th.
195

#1 Clayton Jetton of Dripping Springs ran into resistance in the semi finals with #3 Diego Lorenso of Frisco Liberty and drops to a 5th place finish over #8 Corbin Phelps of El Paso Hanks who takes 6th.  #2 Geronimo Saucedo of Wylie East who has been a state placer the last 2 years finally gets his state championship with a win over Lorenso in the finals giving Lorenso a 2nd place finish.  #6 Truman Castleberry of Vernon who place 4th last season 1 ups to a 3rd place finish this year over #4 Kallon Guyton of Leander Glenn who places 4th.
220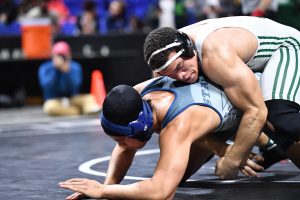 This weight got a toss up with #7 Jacob Munoz rising to the top of the podium with his first state championship over the #2 Michael Gaisoa of Frisco Lone Star.  #10 Kaleb Tompkins of Midlothian was a surprise here, he beat #3 Daniel Kim of Carrollton Creekview  in the first round, #4 Jeff Jackson of Amarillo in the quarter finals before being stopped by state champ Munoz in the semi finals.  Tompkins then beat the #6 Austin Thornton of Dumas in the consolation semi finals where he then beat the #1 ranked wrestler entering the tournament Alex Torres of Lamar Fulshear who was state runner up last season.  So Tompkins takes 3rd, Torres takes 4th, Thornton takes 5th and #14 McClain Matter of Highland Park takes a 6th place finish. Kim went 0-2.  Jackson and #5 Jeremiah Norris  of El Paso Parkland both went 2-2 losing in the blood round.
285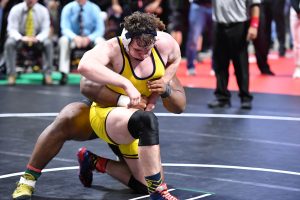 This was the perfect finals match to be last because it was one to remember.  #1 Chidozie Nwankwo of Richmond Foster and #2 Aidan Conner of Highland Park was the main event so to speak.  This was a battle that went Nwankwo's way in the region 3 finals match which gave Conner his first loss in 2 years.  Conner is going for his 3rd state championship and is Nationally ranked going to Princeton and Nwankwo is going for his 2nd state championship and has about every D1 football college wanting him.  Needless to say it was an epic battle, the match went into OT and each wrestler had won then had calls reversed adding to the drama. Conner finally gets the win in UTB 4-3 giving Conner state championship #3.  #6 Ben Bell of Cedar park reaches a 3rd place finish over #10 Marc Rodriguez of Vernon who places 4th,  #8 Marshall Hodges of Midlothian takes a 5th place finish over #7 Jeff Francis-Diaku of Leander Glenn who placed 6th.  #3 Carlos Sanchez of Dumas goes 2-2, #4 Elijah Fernandez of El Paso Eastwood goes 2-2 as well both losing in the blood round.  #5 Roland Castro of Lubbock Estacado goes 1-2.