UIL State Championship Girls 5A & 6A Team Placers
5A
1st El Paso Hanks with 96.5 team points was 58.5 points less then last years team champions  but was enough to beat 2nd
place team Liberty Frisco by 8.5 point.  This makes Hanks 6th consecutive team state championship. Can they catch up to Allen? or 3 more years and they will tie the Caprock girls.  Hanks had 6 qualifiers, 2 in the finals coming away with one champion which was Isabella Gonzalez @ 128, and 4 other state placers making all but 1 wrestler not placing.
2nd Frisco Liberty with 88 team points came with 5 qualifiers and had 2 wrestlers in the finals match as well with only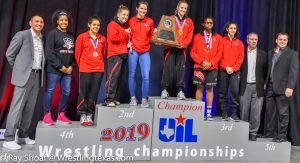 Savannah West @ 110 beating returning state champ Victoria Nunez of El Paso Hanks.  Liberty has 3 other placers.
3rd Azle with 68 team points brought 5 qualifiers as well and 2 making the finals as well but it was Jasmine Howard the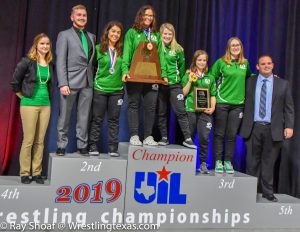 tournament MOW who won her finals match @ 95.  Azle had 2 other placers.
6A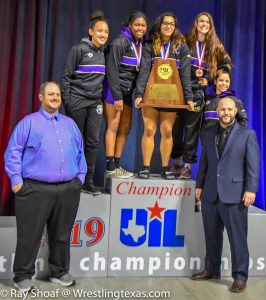 1st Keller Timber Creek gets their first UIL state championship with 69 points with 5 qualifiers 2 making it to the finals but Bianca Rosales getting the only finals win making this her first championship as well.  Timber Creek had 2 other placers.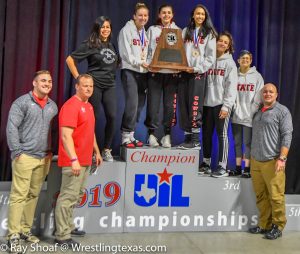 2nd  Coppell with 56 team points bring 7 qualifiers but only 3 of them placing.
3rd Weatherford with 53 team points brings 4 qualifying girls and get 1 champion in Camille Fournier @ 119 giving Fournier a 2nd state championship and earning 6A girls MOW.  Weatherford had 1 other placer.