UIL State Championship Boys 5A & 6A Team Placers
5A
1st-Canyon Randall with 156 team points takes their 4th UIL State Team Title over Dumas who was geared to take their 3rd consecutive state title.  Story line here is Johnathon Ortegon was in position to capture his 4th state title making him
the 1st 5A UIL boys 4xer.  A repeat of the 2017 106 lb final with Ortegon and Tyler Brennan of Frisco now @ 126, Ortegon gives up the overtime take down to give Brennan the win.  Randall was blanked 4 times in the finals resulting in no state champs, however the 9 total place winners out of 10 qualifiers was all that was needed to take the team title and 2nd over fallout of all the teams.
2nd-Dumas with 129 team points brought 11 qualifiers in hopes of a 3-peat but fell short.  Dumas did have a champion @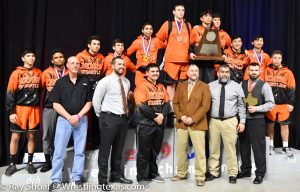 106, Axle Hernandez who live up to his #1 ranking.  They had 4 placers total.
3rd-Dallas Highland Park with 79 team points edges out Midlothian by 1 point for the 3rd place spot.  Highland Park
hadn't been in the top 3 since their dynasty days 0f 1999-2006.  Highland Park brought 6 state qualifiers and placed 4 with 1 champion.  Aidan Connor whom lost his first match in 2 years at regionals to Chidozie Nwankwo of Richmond Foster in OT redeemed himself by an OT victory giving Highland Park their the 1 champion.
6A
1st-Allen  with 241.5 team points if you haven't heard takes its 10th team title with 13 qualifiers having 5 champions, and 7 other place finishers.
2nd-Arlington Martin with 138 team points makes 3rd year in a row with 2nd place finish bringing 10 qualifiers and gets 2 champions and 6 other state placers.  Martin went 2 for 2 in the finals with Donovan Whitted @ 106 and Dominic Chavez @ 120 getting their 1st State Championships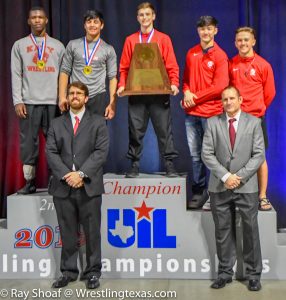 3rd-Katy with 76 team points brought 7 qualifiers and only placed 3 of them, however 2 were state champions.  Daniel Manibog @ 160 and KiShawn Higgins @ 170
| | | Team | Season Team | Abbr | Count | Points |
| --- | --- | --- | --- | --- | --- | --- |
| 1 | | Allen | Allen, TX (GET) | ALLEN | 13 | 241.5 |
| 2 | | Canyon Randall | Canyon Randall, TX (GET) | RANDAL | 10 | 156.0 |
| 3 | | Arlington Martin | Arlington Martin, TX (GET) | MARTIN | 10 | 138.0 |
| 4 | | Dumas | Dumas, TX (GET) | DUMAS | 11 | 129.0 |
| 5 | | Dallas Highland Park | Dallas Highland Park, TX (GET) | HP | 6 | 79.0 |
| 6 | | Midlothian | Midlothian, TX (GET) | MIDLO | 7 | 78.0 |
| 7 | | Katy | Katy, TX (GET) | KATY | 7 | 76.0 |
| 8 | | Plano West | Plano West, TX (GET) | PLWEST | 5 | 64.0 |
| 9 | | El Paso Franklin | El Paso Franklin, TX (GET) | FRANK | 6 | 59.0 |
| 10 | | Cedar Park | Cedar Park, TX (GET) | CDRPRK | 6 | 58.0 |