Texas Own Sierra Brown Ton makes History
Brown Ton earns first win for women's wrestling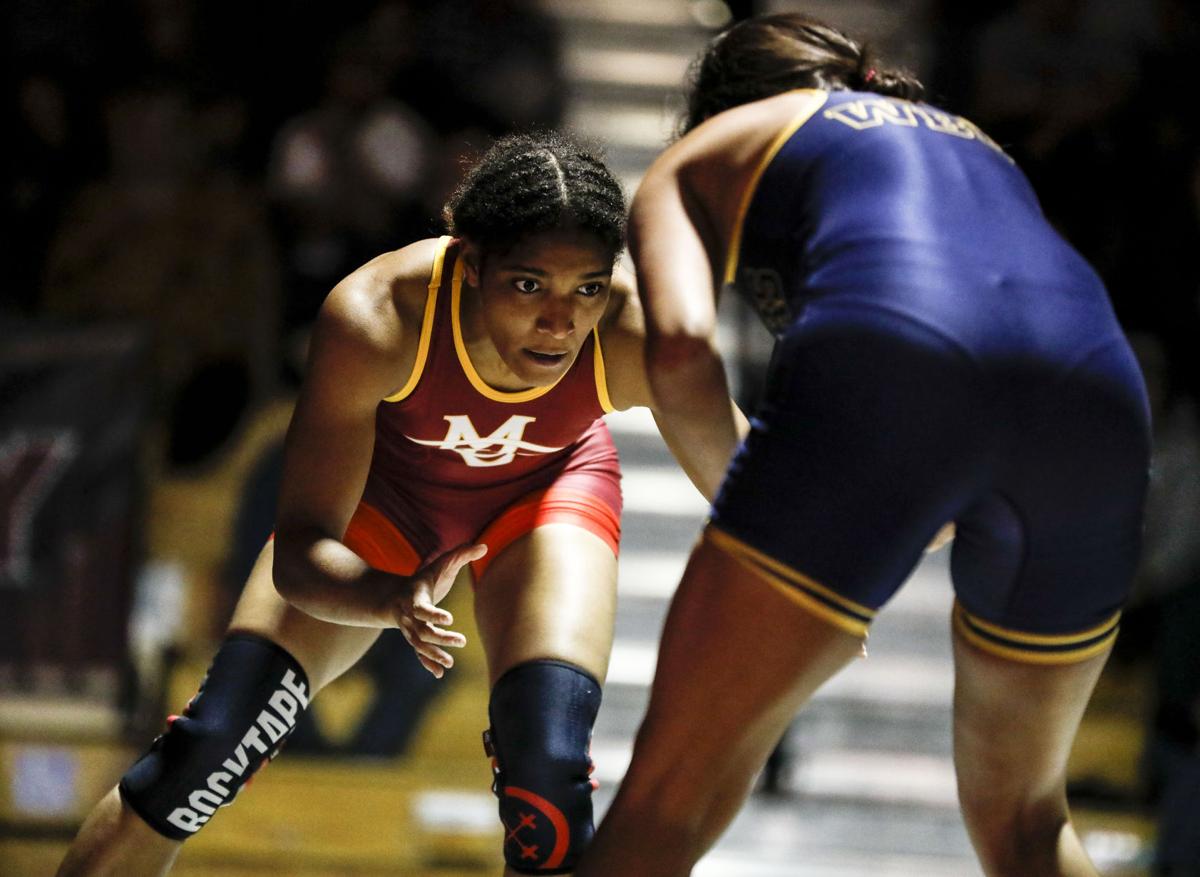 Sierra Brown Ton's singlet will one day be framed and hung in the wrestling room at Colorado Mesa.
The 130-pound freshman from Allen, Texas, beat her former high school teammate, Wayland Baptist's Leah Olguin, on Saturday, the first victory in the history of the Mavericks' women's wrestling program.
During the match, though, Brown Ton was simply trying to catch her breath. She has asthma, and it acted up midway through the first period — when she was only two points away from registering a technical fall.
"I usually take my inhaler before practice, but I never take it before a tournament," Brown Ton said. "I didn't take it and I felt it pretty bad. I wasn't nervous or anything. If anything, I was really focused on beating her because she used to beat me in high school."
After an injury timeout and using her inhaler, Brown Ton gutted out the first period and led 13-5, then registered a takedown of Olguin, a senior, in the opening seconds of the second period for the technical fall, eliciting a roar from the crowd at Brownson Arena.
"Everyone around me when they were holding me up was telling me 'be aggressive.' I went back to the center and told myself, 'OK, one more shot, be really aggressive. Don't let her win; that would be really dumb if you let her win and you only (need) one more takedown,' " Brown Ton said.
The Mavericks, some of whom had never wrestled a match before, built on the momentum of that first match win and built a 13-4 lead before falling to the top-ranked Pioneers 37-14, giving up 15 points on forfeits in the three lower weight classes.
"The girls did a great job," coach Travis Mercado said. "Every (day) we have a saying, four things, 'I'm thankful for the opportunity to wrestle; I'm aggressive and relentless; I have no fear or losing or making a mistake and I never give up.'
"At first it was like, OK, whatever, but they believe in that. They're not afraid to make mistakes, they're not afraid to take chances. You can see we're aggressive, we want to score."
Right after Brown Ton's win, the locals took center stage, with Grand Junction 136-pound freshman Kaylee Lacy showing that aggression, throwing her opponent, Jaqueline Flores, to the mat on her way to a quick 10-0 technical fall.
"I knew when the spotlight was on, she'd make it happen," Mercado said. "This was like being at Grand Junction (High School), a bigger arena, and everyone was here cheering for her. I think that helped the team out in the long run. No one was against us today."
The Mavs' only senior, Paonia graduate Carson Pipher, certainly had everyone in her corner in her 143-pound bout, getting a rousing ovation during introductions. She later laughed that probably half of Paonia made the trip to Grand Junction.
"You can feel the energy in the room when you're out there and it's great knowing everyone is for you no matter what the outcome is," she said. "I knew all I had to do was go out and give 100 percent and they were all supportive."
In her first-ever match, she gave them plenty to cheer about. Down 4-0 early, Pipher got a push-out (escape), then threw sixth-ranked Marina Briceno to her back, locked her up and stuck her with 53 seconds remaining in the first period for the first pin in program history.
As the crowd roared, CMU men's coach Chuck Pipher, serving as Mercado's assistant, went all proud uncle, hoisting Mercado off his feet in a bear hug, and as Carson Pipher ran off the mat, picked her up too.
"That was my personal highlight," Mercado said of the bear hug.
"I heard he was pretty excited," Carson Pipher said. "I have a very supportive family. Every time we come watch a dual I want the guys to win because I know them, he's my uncle and we all support each other. I feel very blessed. Not everyone has that."
As for the match, Pipher isn't sure how it all happened.
"That was crazy," she said with a grin. "It was all reaction and honestly, I don't remember doing the move, I don't remember how I got her into that, but I knew once I had her, I remember knowing I was going to pin her. I was like, she's not getting out of this. I don't remember how she got into it but I knew I was going to pin her once I had it. That was exciting."
After Briceno took Pipher down, she locked one of her knees, both of which have been surgically repaired, and Pipher looked upset. It wasn't that, she said later.
"I was just letting her know I was going to fight and give 100 percent," she said. "It wasn't a reaction, I wanted to make sure she knew I was going to beat her and I was there to beat her, it wasn't just a match that she was going to come and walk over me.
"She's a good girl, so she was probably thinking she was going to come in here and kick my butt I wanted to tell her no, not without a fight."
https://www.gjsentinel.com/sports/cmu/brown-ton-earns-first-win-for-women-s-wrestling/article_d6187a40-da78-11e8-9eb6-10604b9f1ff4.html?fbclid=IwAR1VT1-WiANkJ9tSGfj8rswPdYkVY0DKuTeRJmvdF5xXyc0mMlSgzxt6hc8