Texans competing @ Agony-N-Ames
This year as last year, Texas has 2 wrestlers competing in the All Star Dual in the Agony-N-Ames at Hawkeye Arena @ Iowa State University  this coming weekend on October 20th, put on by Flowrestling.  Matches will start at 2pm with  undercard featuring some elementary and middle school match-ups. with the main event starting at 3:30 central time.
This year #3 nationally ranked Braxton Brown of Allen will be facing #15 ranked Drake Ayala of Ft Dodge Iowa to be the lone mens wrestler for Texas.  It will be the first match on the schedule.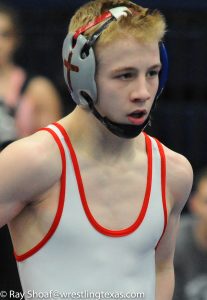 #4 nationally ranked Hunter Robinson of College Park will face #6 Alexis Gomez of Carol Stream, Ill., Glenbard North High School for the lone womens Texas wrestler and the only womens match in the line up.
This is the 2nd year in a row that Allen has had wrestlers represent Texas at this meet, last year it AJ Ferrari and Alex Liles whom both won their matches.
MATCH ORDER
106: #15 Drake Ayala (Iowa) vs. Braxton Brown (Texas)
126: #8 Jesse Ybarra (Arizona) vs. Jeremiah Reno (Missouri)
126: #14 Caleb Rathjen (Iowa) vs. Nico Bolivar (Illinois)
130: #15 Travis Teague (Missouri) vs. Jesse Mendez (Indiana)
138: Colby Schriever (Iowa) vs. Eddie Bolivar (Illinois)
178: #4 Jackson Turley (Virginia) vs. #19 Greyden Penner (Missouri)
195: Gabe Christensen (Iowa) vs. Brandon Hoselton (Illinois)
152: Baylor Fernandez (Illinois) vs Brock Ellis (Indiana)
154: #6 Alexis Gomez (Illinois) vs #4 Hunter Robinson (Texas)
132: Cael Happel (Iowa) vs. Wyatt Henson (Missouri)
116: #3 Cullan Schriever (Iowa) vs. Vince Cornella (Colorado)
120: #3 Aden Reeves (Iowa) vs. #6 Matt Ramos (Illinois)