National Schoolboy/Girl Duals
The Team Texas Schoolboy Dual Team is headed to Indianapolis to compete in the Freestyle and Greco National Dual Tournament.  The team was scheduled to departed Love Field Airport at 6am this morning June 6th and will return at 10pm Sunday June 10th.  Wrestling will start Thursday with Greco Duals at 8am.  As always the teams will be split up into pools for the first day and the placement in the individual pools will determine which bracketed pool they will be in the next day.  This will be the same with freestyle.
WrestlingTexas won't have photgraphers at this event, but all results and highlights will be updated on facebook and twitter throughout the day.
Below is the wrestlers who will make up this years schoolboy team.  Team Texas doesn't have a schoolgirl team this year competing.  The weights with asterisks are UWW Qualifying Schoolboy Pan American Weight Classes.
71-Kooper Good
77-Wyatt McClellan
*83-Carter Taylor
87-Shawn Ryncarz
*90-Alec Robeson
97-Jakob Smith
102-Troy Guerra
*106-T.C. McGuire
110-
*114-Zachary Evans
119-Julian Solis
125-Caleb Mata
130-Cory Camden
*136-Julius Alfaro
*149-Bryce Milster
*165-Vincenzo Oliva(FS), Zeb Fulmer(GR)
*187-
250-Drake Madole
Coaches
Justin Flores, Phil Esposito, Brett Camden, Steve Horton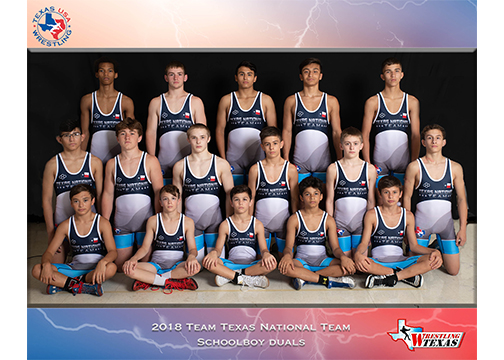 Best of Luck and Safe Travels.