The Colony's Charlie Hamer is Wrestler of the Week.
Earlier last week #1 ranked @ 95-5A Charlie Hamer of The Colony High School Wrestling Team won the Tricia Saunders High School Excellence Award for the Central Region,  what makes this extra special is that this was only Charlie's 3rd year to wrestle. Hamers accomplishments in the last 3 years are amazing.  (TSHSEA).The award recognizes and celebrates the nation's most outstanding high school seniors for their excellence in wrestling, scholastic achievement, citizenship and community service.
Other Accomplishments or Awards in Wrestling:

2017 5A State Most Outstanding Wrestler
3x-5A District and Regional Champ
3x-5A State Placer
2x-5A State Champion
2x Member of Team Texas National Team
2x All American
Over 20 UIL tournament championships in 3 years
3x Captain
Wrestled in USA Wrestling Cadet Development Program
125 HS wins in just 3 years
3 years ago, The Colony High
School didn't have girls wrestling.
Charlie was the 1st member of the team and she had never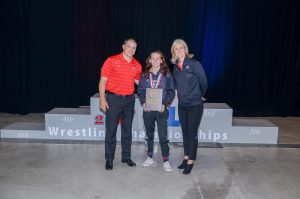 wrestled a day in her life.  She had
grown up trying all sports but not succeeding at any but she found her
sport in
wrestling. While playing on the school's soccer team, she came to wrestling
practices before school, then went to soccer practice, and then came back
after
school for wrestling practice.  She was
the 1st Captain, 1st Win, 1st Pin, and 1st
Champion.
She fought for women¹s
wrestling to be a sport here and in just 3 years with her leadership her
team
won a District title and finished in the top 6 in the State.  This would
have never happened without
her.   She has been the mainstay of
recruiting young ladies to come from the Middle Schools and join this
program
so that it has a future.  Wrestling is
going to give Charlie a college education, next year she will be wrestling
at
Emmanuel College in Georgia studying Early Childhood Education.  She wants
to teach young minds.
A big Congrats to Charlie Hamer