Article in Allen, Star Local Media By Ethan Grant
Around the Allen mat: Storylines aplenty as Eagles seek seventh straight championship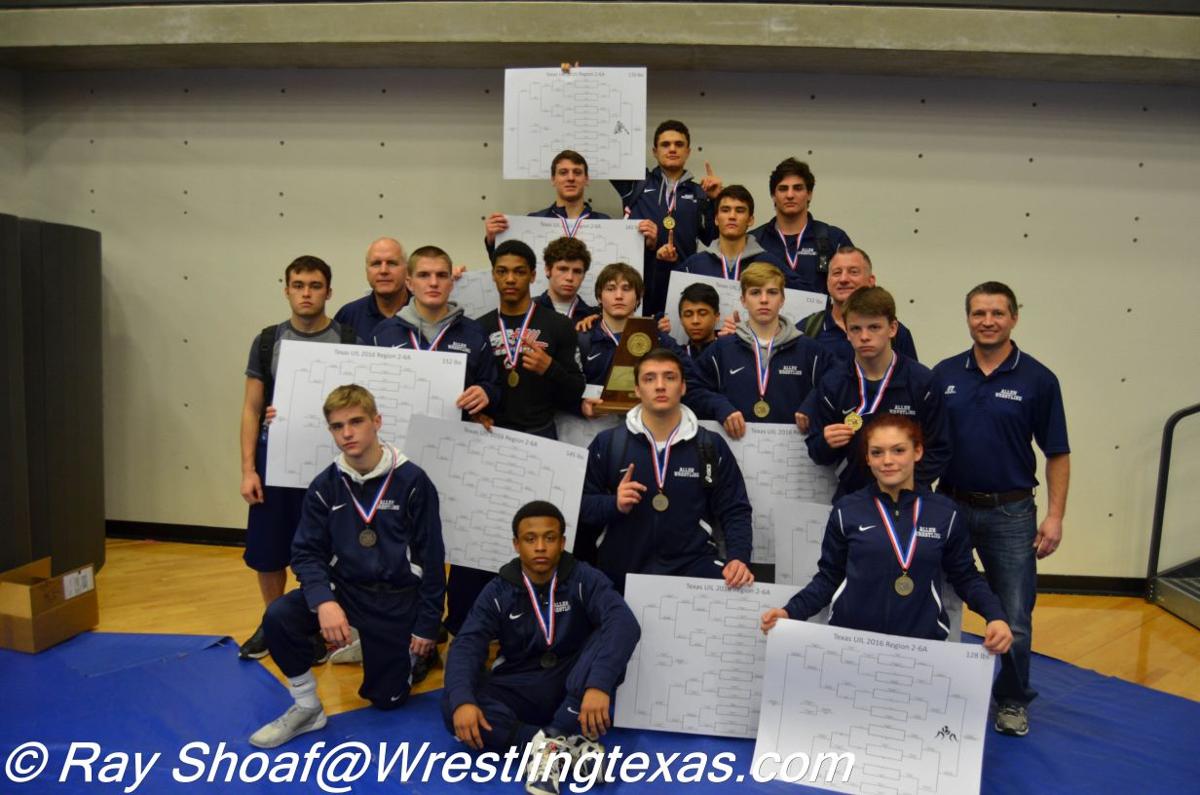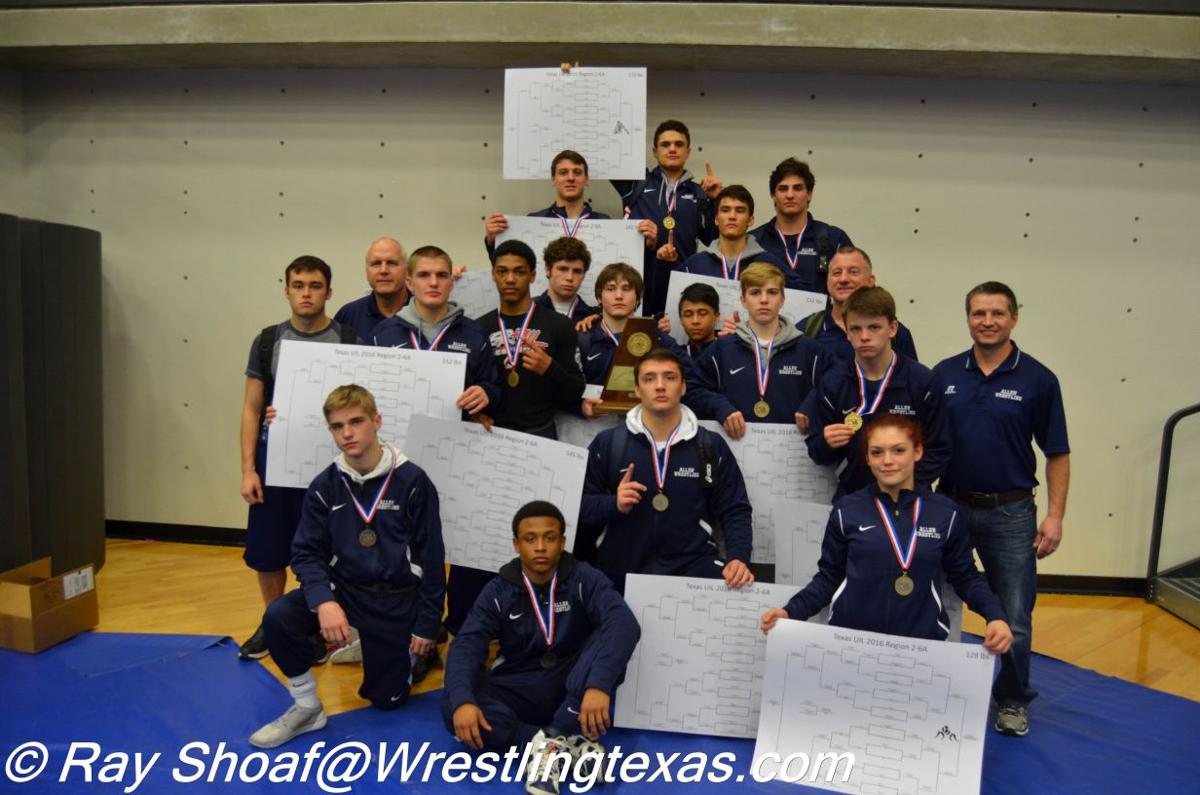 The Eagles broke their own points record at the Class 6A Region II meet last Friday and Saturday, advancing all 14 wrestlers to state in the process and seeing those 14 finish no worse than third in their respective bracket.
"Everybody is putting in more work," said Juwan Robinson, Allen sophomore. "Our work ethic is high and it's higher than any other team in the state of Texas which is why we have 14 guys competing."
Head coach Jerry Best called this year's group a melting pot of characters, of sorts, and with so much talent across the board, there are a number of angles worth following as the Eagles travel to state.
Return of Robinson, McCabe
An injury just before last year's District 8-6A meet cost then-junior John McCabe a shot at becoming a three-time state qualifier.
Now a senior, McCabe is making up for lost time.
The 160-pound Allen starter has laid waste to his bracket at district and regionals, capturing individual gold medals and setting himself up as a potential favorite at state.
"I realized that if I started performing again like I was last year, I could do good things at state," McCabe said.
McCabe qualified at 132 as a freshman and sophomore, but the jump to 160 has suited him.
So has sparring with Robinson, who jumped up from 138 to 145 and shucked an offseason football injury to return to full form.
Robinson broke his femur in spring football, only to see rehab set him up to return to training late in the summer. The defending state champ admitted there were moments of doubt along the way.
"First thought was, 'Am I going to be the same?'" Robinson said. "'Am I going to be as fast, or quick or strong?' But I just put in the work and got stronger and quicker – back to normal, really."
Seeing the value of strength at 145 during his matches this year, Robinson credited McCabe for helping him prepare for the weight during postseason tournaments.
"There's more hand fighting than usual," Robinson said. "I've been wrestling McCabe because he's one of those upper-body guys and he's been showing me some stuff."
Both earned 8-6A and regional titles and will look to do the same at state.
Zeroes still intact for Liles
Sophomore phenom Alex Liles is seeking back-to-back 128-pound girls titles for Allen, as well as keeping her personal undefeated mark in high school intact.
Liles qualified for the United World Wrestling Cadet World Team over the summer and currently boasts a 20-0 record this season.
"I do feel like I have to always win to keep the undefeated record going, but it's exciting and fun," she said.
Liles draws inspiration from her brother, Rick Moreno, who previously wrestled for Allen but passed away a few years ago.
"He got me into wrestling and I do this everyday for him," Liles said. "I just know he's watching me. It motivates me to compete 10 times harder and the wins just help it be more exciting."
Washington steps into spotlight
It took three years for David Washington to see his nameplate sit atop the 138-pound part of the starting lineup board in the Allen wrestling room.
It almost didn't happen this year, either, as Hunter Gibson (now at 132) spent some time at the weight early in the season.
But Washington, who has been wrestling since seventh grade, finally assert himself as the top athlete at his position, he wasn't going to let it go.
"I couldn't believe it at first," he said. "I've been working so hard and been used to being the second dude for so long. After Lucas Reifsteck graduated, it was like, 'This is my time. I've got to take this.'"
Reifsteck was a multiple state qualifier for the Eagles, and Washington couldn't get over the hump. Despite discouragement, Washington held on to what only he could control – his improvement.
"I [couldn't] beat him, but I'm beating everybody else in the state," Washington said of the past couple seasons.
With an 8-6A title under his belt and a silver medal at regionals, Washington hopes to bring home a medal at state, too.
"I've been waiting to step on this big stage for a while," Washington said. "Now that I'm finally here, I'm just going to go do my thing."
Record books, get ready
The 14 qualifiers Allen is sending to state will mark the first time in Texas history a squad has sent every weight class to the tournament.
The next-closest programs include Arlington Martin, Austin Westlake (both eight) and 8-6A rival Rockwall (seven).
In talking with Best, it's clear to see why Allen consistently is head and shoulders above the rest of the state – expectations and preparation collide on a daily basis.
When asked about the possibility of getting six or seven individual champions, Best's retort was a clear indicator of what's trickled down to his kids.
"We better get more than that," he said.
That, and the family bond instilled within the program, give the Eagles a great shot to win seven straight come Saturday.
"Out of the four years I've been here, this is the most we've come together and supported each other," McCabe said. "It's just great being around each other."
Weight check for the state meet will kick off at 4 p.m. today at the Berry Center and matches will commence at 8:30 a.m. Friday.